Good Morning Everyone:) I hope you had a terrific weekend!! I struggled with two girls with Bronchitis here but they are on the mend thank goodness. It stinks when you have one sick. But both at the same time UGH!!
On the up side we had 10 wonderful little angels get adopted yesterday during my weekly volunteering for The Haven ( The No kill animal shelter).So that balances out all the bad LOL:)
Well onto this weeks Challenge and SPonsors:
I would like to welcome to brand new sponsors to CYP Challenges:
&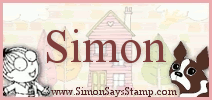 Please Take a moment and check out there wonderful site when you can.
Now on to our Challenge.
This week we had a color Bingo Board Challenge:
Use any 3 colors going vertical, horizontal or
diagonal.
I choose the center row of the bingo board with the colors GREY, RED, & BLUE.
My Image comes from Limit Runs. I hope you Enjoy Until Next Time
The Saying on My card says" Sometimes you're the dog... Other times you're the hydrant....."